Plants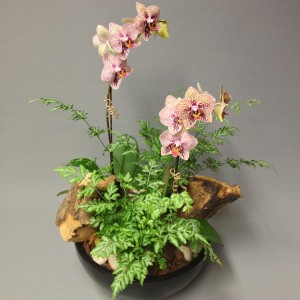 Phalaenopsis Orchid in Woodland Setting
Dish Garden
This creative presentation features one of our easy to grow double stemmed Phalaenopsis orchids, nestled comfortably with a foliage plant in a ceramic container. It is accented by driftwood, moss and stones! It evokes a woodland theme and is just not done justice with this photo! PLEASE NOTE: This unique item is only available for local delivery!
We want to thank our customers for their flexibility during this extraordinary time! After Mother's Day We will again allow one person or household (up to 4 persons) at a time to enter our store for in person shopping. Masks are required.
We have gorgeous flowers and are
making deliveries daily! Thanks for supporting us.
We greatly appreciate it!